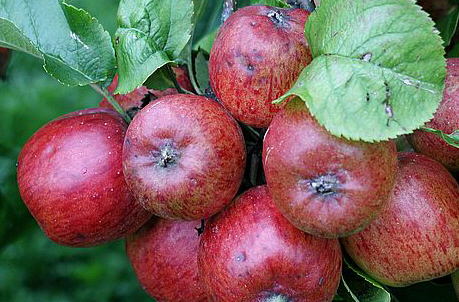 Apple-Gingerbread Pancakes
It's raining again. New England has gotten more rain than usual this fall. This has made for very dull leaf color, but a spectacular apple crop. I have been gobbling the fruit from the tree in my garden, as have all of the wild turkeys, deer and chipmunks.
Here's a recipe for breakfast on a nippy fall morning using apples. Actually, these pancakes would make a nice supper alongside sausage patties and green beans (I love green beans) or a salad.
I hope you enjoy them…
Apple-Gingerbread Pancakes
This recipe makes about 6-7 pancakes, or enough for 2 moderately hungry people.
Make them with the sliced apples in the batter, as described, or have them without, with maple syrup and butter and applesauce on the side. A blob of yogurt or sour cream instead of butter isn't a bad idea, either.
Also good with pears, fresh or fried lightly in butter with a pinch of salt and big pinch of sugar, or apples, treated likewise. Apricots sound good, too. Play around.
1/2 cup all-purpose flour
1/4 teaspoon baking soda
1/4 teaspoon salt
1/2 teaspoon ground ginger
1/4 teaspoon cinnamon
pinch cloves
3 Tablespoons molasses
1 large egg
1/2 plain yogurt or buttermilk
1 Tablespoon melted butter
small unpeeled apple, sliced very thin (I use the blade side of a box grater to make the slices)
Mix all of the dry ingredients in one bowl, and beat all of the wet ingredients together in another.
Mix the dry into the wet. Stir.
Stir in the apple slices, if you are using them.
Cook on a medium-hot buttered griddle until the bottoms are brown and the batter is bubbling.
Flip, cook, eat.
Note: Watch the bottoms of the pancakes carefully so they don't get too dark before the centers are
cooked. All the molasses tends to make them brown fast.