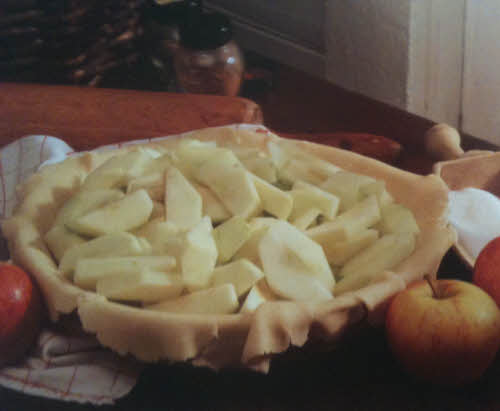 January – Crumb Top Apple Pie
Warm and comforting – the perfect dessert for a cold winter night.
½ recipe Basic Pie Crust
7 or 8 large, tart apples. Cortlands, Northern Spy, MacIntosh, Jonathans, Granny Smith are all good.
Juice of ½ lemon
½ cup (1 stick) cold butter, cut in small pieces
½ cup packed light brown sugar
½ cup all purpose flour
½ cup rolled oats
½ teaspoon cinnamon
Pinch of salt
Roll out the pie crust in a 13" circle and line the bottom of a 10" pie plate with it. Fold up the edges and crimp them decoratively.
Peel and core the apples. Slice them thin. Toss the slices with the lemon juice, then spoon them into to prepared pie shell, mounding them gently.
Put the flour, brown sugar, salt and cinnamon in a medium bowl. Using a pastry blender, cut the butter into the flour mixture until it is the size of small peas. (You can do this part in a food processor, if you like. Just a few pulses will do it.) Stir in the rolled oats. Work the dough with your hands until it starts to clump together.
Sprinkle the topping over the apples, covering them evenly and completely.
Bake the pie in the middle of a preheated 375° oven for 40 – 50 minutes. Poke a small pointed knife through the topping to test if the apples are done. They should feel soft, but they should still offer a little resistance. This pie should not be cooked so long that the apples fall to pieces. The topping will be a toasty brown.
Serve the pie warm or at room temperature.