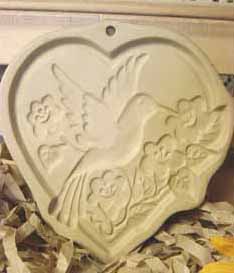 Cookie Molds introduced in 1992:
1992 Limited Edition Santa with Stars, AFA No. 10 Tulips, AFA No. 7 Wild Strawberries, AFA No. 8 Little Rabbit, AFA No. 9 Beehive, Basket of Hearts, Cherub (different version), Contented Cat, Cupid Heart, Dappled Horse, Dolly, Garden Rabbit, Gingerbread Man, Hog went A-Courtin', Hummingbird Heart, Jack-O-Lantern, Lacey Heart, Mother Goose, Prancer, Rose Heart, Watermelon Pig*
*All molds from 1992 may not be represented here. These pictures are for visual information only.