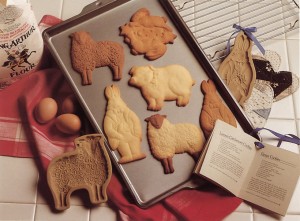 Lunchtime rolls around at work.
You open your brown bag and take out your sandwich, chips, baggie of carrot sticks and… an Alligator cookie. Maybe the kids get a Good Kitty, a Scottie Dog or a cookie shaped just like a jumbo sized doggie bone.
A Star Spangled Cowboy Boot would be just the thing for a July 4th picnic. How about a creepy Spider Web cookie for Halloween? Santa cookies, Snowflakes and Musical Angels would be perfect on a Christmas buffet.
Brown Bag Cookie Art and Brown Bag Designs are all about playing with cookies. It's about having fun making, eating and sharing surprisingly un-ordinary treats.
We feel that since cookies are so much a part of our everyday lives, they should be wonderful, not merely tasty. With our molds, you can make cookies to delight the eye, gladden the heart and tickle the funny-bone.
Here you can see pictures of all the Brown Bag cookie mold designs created between 1983 when it all started, and 2005 when I created my "Swan Song".
Brown Bag Cookie Molds - 1983 through 2005